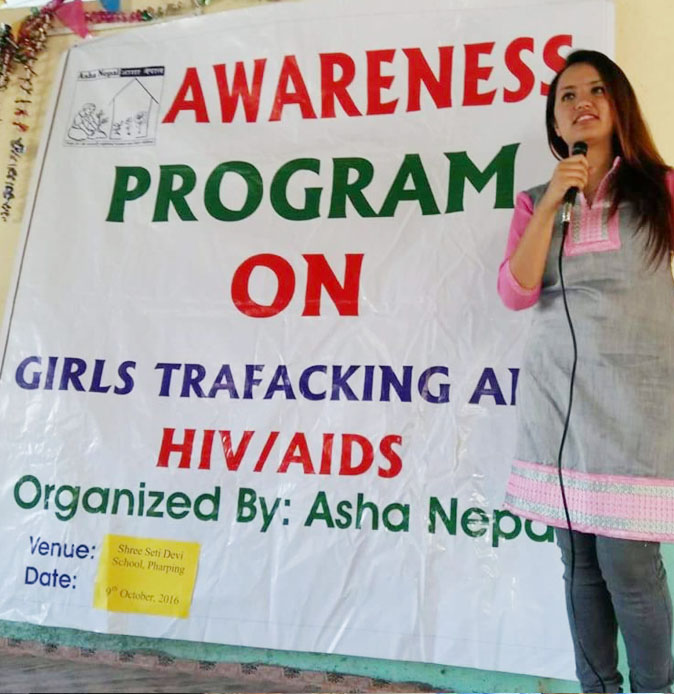 Where We Work
We primarily work in these areas:
India: We collaborate with other organizations of Mumbai, India to rescue women and children from the brothels of Mumbai and other cities of India. We visit red light areas and work with them directly, we focus upon HIV positives too. We have worked with several red-light areas such as in Bhiwandi, Turbhe, Kamathipura, etc.
Nepal: We hold awareness programs all over Nepal, travelling to villages to raise awareness about the trafficking of women and children. "Girls trafficking and HIV/AIDS" is the main topic of our awareness programs. We organize programs on women's day, anti-trafficking day, and other occasions and even participate in the programs that government has organized.
Kathmandu: We are situated at Taukhel, Godawari, we have a rehabilitation center home for rescued ladies and their children where they are provided with basic needs, education, love, support, counseling, vocational training, skill development programs, etc. We have a home where currently 35 women and children are living.
Hetauda: At the heart of Hetauda, Huprachaur, Asha Nepal has been established on July, 2015. The main objective of establishing Hetauda branch is to provide rehabilitation center for the children whose parents are incarcerated. Those children are deprived of every basic needs that they must receive, no parents around to take care of them and no one to love and care for them. Whereas some kids were living at prison with their mother and father, which will certainly form a negative impact on their mental health as well. We have network from different prisons such as Nepalgunj, Surkhet, Birgunj, Bhimfedi, etc.
Nepalgunj: On october 2016, we started our another branch at Nepalgunj, Banke, in the border area. We have established the branch in order to work to work against trafficking from border. Girls trafficking from open border has always been the main cause. So, we have started to work for the prevention part too.